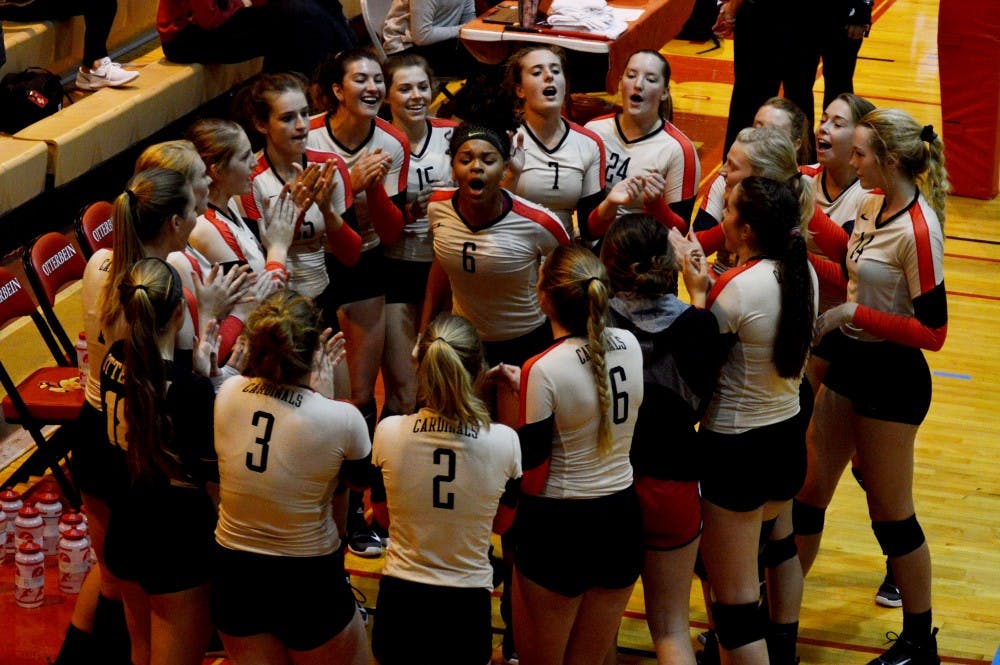 The Otterbein Cardinal volleyball team is back with experience and new expectations for the start of their 2017 season. Almost everyone is returning after having just one player graduate last year, stacking the team with 12 experienced players and nine freshmen.
Two Ohio Athletic Conference (OAC) players are returning this year. The all-conference players are Andrea Miller and Morgan Lowenkamp. Lowenkamp made the all-conference team despite being out for the first half of the season due to illness. The team lost only one senior, Brenna McNally.
"She was a consistent player and a great leader and teammate," said head coach, Monica Wright.
The team is taking a new approach to the 2017 season. They are focusing on coming together as a team instead of focusing on just playing the game. Teammates are expected to work hard for one another so they can succeed together. Both Wright and sophomore libero, Ashlyn Leon said the team is improving their communication skills to become one unit.
"We've been focusing on our culture as opposed to focusing on the wins and the losses," said Wright. "We've been working on everything that doesn't involve a ball and I think it has helped us."
The players are behind this philosophy too. "We've been working on our team culture, coming together on and off the court," said Leon.
The Cardinals started their season as an undefeated team, winning their first nine games. Their next game is scheduled at home on Tuesday, Sept. 12, 2017 at 7 p.m. against Kenyon.
---